Sump Pumps and Battery Backup
Basement Technologies premier sump pump solution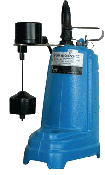 Bell & Gosset (ITT) has been in business for over 80 years and is the premiere American made pump manufacturer in the country. They specialize in heavy duty industrial/commercial pumping units and have "downsized" some of this special technology especially for Basement Technologies. We have committed to Bell & Gossett (ITT) company our entire line of primary dewatering pumps because we are confident that our reputation is compatible with their's, and they are manufactured here in the United States. We carry three (3) primary pumps – 1/3, 1/2, and 3/4 horse power.
Eliminate unreliable sump pumps with the Stallion Eliminator!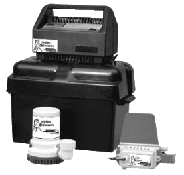 An accepted reality in basement waterproofing is that all reliable basement waterproofing systems are based on a pumping unit. Pumping units are run on electricity and are a mechanical device prone to possible failure. Basement Technologies recommends Battery Backup Units and secondary pumps on all pump locations. The Stallion Eliminator is designed to be the best Battery Backup Unit on the market. Storms, power outages and unforeseen mechanical failure are all unforeseen realities. We recommend every Basement Technologies customer plan for the unforeseen.
Never lose sump pump coverage again!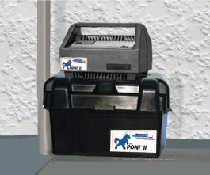 The Basement Technologies PONI™ battery operated backup sump pump is designed to back up primary residential sump pumps in case of pump or power failure. A must for those installations where an inoperative sump pump can not be tolerated. Separate float switch and built-in alarm automatically starts back-up system and activates warning buzzer to protect against high water damage and warn of primary pump failure.