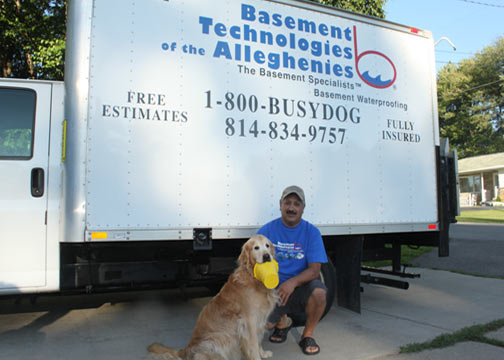 Basement Technologies of the Alleghenies is owned and operated by Perry "Chip" Carnovale of Kersey, PA (formerly of Johnsonburg). The company offers waterproofing products and services that solve wet basement problems resulting from water entry points such as floor and wall joints and cracks, water dripping down walls, and crawl space moisture.
Chip began doing construction work while in high school by helping his brother build foundations. He is also a graduate of Williamsport Community College for construction carpentry. He has worked in carpenrty, construction, and remodeling for over 20 years. His extensive experience is why Basement Technologies contacted him to cover the counties of Elk, McKean, Potter, Cleafield, and Center in Pennsylvania, and Chautaqua and Cattaraugus in New York.
Basement Technologies based in Brockton, Massachusetts has over 100 franchises across the world and has been in business for over 20 years.

The Pennsylvania registered contractor number for Basement Technologies of the Alleghenies : PA053072
We are a fully insured contractor.

We are the basement improvement specialists.
Basement Technologies is the best choice for all your foundation, basement waterproofing & basement finishing needs. Basement Technologies' ability to waterproof a basement, replace a basement foundation wall or support the wall, along with finishing the basement is a benefit to our customers because you only need one telephone number to call, one company to deal with, one install date and all your needs are met. We are your "one stop shop" for all your basement improvement needs.
Basement Technologies was conceived with the intent to give back to homeowners their down stairs living space. To make a basement a safe place for storage & allow homeowner's the luxury of a full night's sleep. Knowing that your foundation wall is strong, that the morning will not bring out the wet vac & hours of drying a basement floor, is the difference between a basement, and a Basement Technologies Basement!
Lifetime Warranty
The Basesment Technology system installed in your home is warranted to be free from defects in material and workmanship under normal use and service and that no water shall pass from any wall where the system has been installed or through the system and collect on the crawl space/basement floor. The warranty is in effect for the lifetime of the structure from the date of completion of the installation and is transferable to future homeowners for the life of the structure. The water control system shall not rust, rot or corrode for as long as you own the home.