Waterproofing Accessories
Basement window installation has never been easier.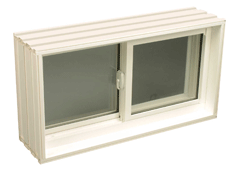 "The Light" Basement Window is a high quality, durable window that is easy to install, operate, and maintain. Designed specifically for basements, the "The Light" Basement Window has many new standard features found only on this unit. Basement Technologies proudly introduces the basement window for a new basement finishing century of construction with Basement Technologies.
The toughest pole wrap available.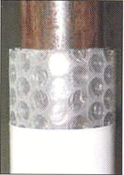 Lally Wrap™ is a patented product that was designed to cover any hard pole type object for safety or cosmetic purposes, perfect for any basement finishing project. It's inherent quality is to quickly and effortless convert a hard steel pole or wood pole with corners into a SAFE, SOFT and ATTRACTIVE design that would then have a padded surface with a leather-like plastic skin. The tough and durable high gloss white skin that will clean easily and maintain its attractive appearance while protecting the specially designed internal heavy duty, burst resistant nylon bubble air cushion.
The only hoses guaranteed for 20 years.

Thousands of homes and properties have experienced the terrible, soggy muck of catastrophic failure, but until now, quality replacement hoses did not exist. Homeowners and community associations across the country have endured property damage, insurance shock, and substantial out-of-pocket expenses. These problems could have been easily solved with a proper basement waterproofing system It doesn't have to be that way anymore!

Flood Chek hoses start out with the same traditional rubber tube, but add two layers of 23# braided rayon reinforcement, a .012"-gauge rubber jacket and a .063"-gauge rubber cover. And, since most floods start at the coupling, Flood Chek couplings are machined from non-corroding solid brass.
You decide where your water goes.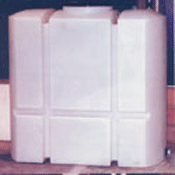 The Water Grabber® Bull Dog™ pumps the water normally discharged to your lawn, to a holding tank. The water is no longer wasted by pumping it out to the lawn, while it is raining. We saved it for the spring and summer months for watering the lawn. Watering ban restrictions and high water bills are common during the summer months. The storage of previously wasted water solves these problems.
The lean design of our Rain Recycler™ makes this product functional and desirable. The tank is 62 inches wide, 29 ½" from the wall, and 61" high making it possible to fit any basement, finished or unfinished. The design of the Rain Recycler™ is unique. A potential 3 pump system provided a virtually fool proof product.
We discharge from the Water Grabber® Bull Dog™ into our 375 gallon holding tank. This stores the ground water in the tank until you need it during the spring or summer. In the holding tank we install two (2) 1/3 h.p. pumps. One is designed to be turned on by a switch located by your new spigot (installed by us). Turn on the switch to activate the pump and then pumps to your garden hose or sprinkler system.
The other pump is set up to turn on if the water rises toward the "overflow" storage level. This pump will automatically discharge the water to a line and Freeze Stop® with Bubbler Pot® or Lawn Magnum™ installed in your yard. The RainRecycler™ system can have tanks run in a series, which can store water for use during town water bans and droughts. Watering your lawn using town water can be very expensive. The capability to store rain/ground water, save it and use it when needed, will save money for every household.