Finishing Products
Your sump pump will never freeze again.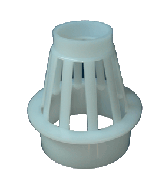 The heart of any waterproofing system is the sump pump. The sump pump usually discharges the water to the outside of the home. When it gets cold, exterior discharge lines can easily freeze. The pump will continue to pump, but due to the frozen discharge line, the water could back up and cause your basement to flood.

Not any more! our Freeze Stop™ eliminates this from ever happening. We guarantee, in writing, that our Water Grabber® Bull Dog™ sump pump will never back up due to exterior freezing again. Ask your representative about our unique Water Grabber® Bull Dog™, Bubbler Pot™, Freeze Stop™ (patented), Alternator™ (patented), Lawn Magnum™ (patented) and Water Trek Aqua Route® (patented) combination. It works ... we guarantee it.
Provide a clean and safe additional living/storage space to your home.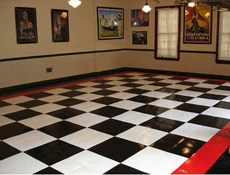 Moisture on the floor created by condensation becomes a concern of the past. The Tech Deck™ interlocking floor system is made of a hardened plastic that covers unsightly concrete basement floors giving a beautiful finishing touch. Walls can be installed right on top of the innovative decking.
The Tech Deck™ follows the contour of the level basement floor and allows an air flow under The Tech Deck™ minimizing basement mold growth which is prevalent in carpets, tiles and other floor coverings. The subterranean basement environment requires this air flow to combat the hazards of mold and condensation.
The research and development department at Basement Technologies teamed up with a top engineering firm to develop a modular basement floor covering that will finish and protect the basement floor in one easy step. The decking has over 20 years of proven engineering durability. It is engineered to withstand the toughest of mechanical environments, and resist oil and household chemicals. Our new floor cover profile is specifically designed for basement floors and allows air to channel under these patented tiles.
Finish and waterproofing your walls in one easy step.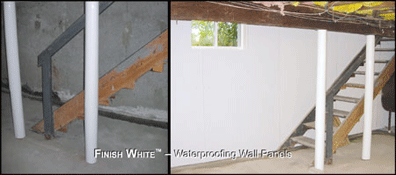 The Finish White™ panel system makes your basement look like a finished room, and waterproofs at the same time. The huge expense of complete remodeling is eliminated. Now you can add a significant amount of living area to your home for a fraction of the cost.
Basement Technologies' Finish White™ is the perfect finishing touch to your newly dry basement. It keeps your basement walls dry and beautiful. Washable, attractive, permanent and very cost effective - Finish White™ is the only choice for basement walls.
Finish White™ attaches directly to your poured concrete or block foundation walls and is best used in conjunction with a full perimeter Water Trek Aqua Route® system.
Keep condensation and dampness out of your carpet.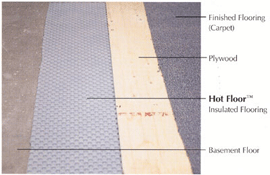 The Hot Floor™ is a specially insulated padded barrier installed on top of your concrete basement floor and under the plywood and carpet. It is unique because it actually gives you the warmth and comfortable feeling of a hot floor similar to the top floor of your home. Headroom height and loss is kept to ¾ to 1", as opposed to the more costly alternatives that cause as much as 4½ to 5" loss of headroom.

The Hot Floor™ is the perfect compliment to your new dry basement and new living space.
Finish your largest useable area with the Basement Technologies Hot Floor™ Insulated Flooring System. Make your basement feel like a 2nd floor! A true cost effective improvement to basement remodeling.